25 hours spent improving site speed
300+ SMEs behind campaign driving results
$3,125 initial investment
50 hours spent improving site speed
300+ SMEs behind campaign driving results
$6,000 initial investment
100 hours spent improving site speed
300+ SMEs behind campaign driving results
$11,500 initial investment
Page Speed Optimization Services from Seventh "P"
Swipe to the right on the table below to view additional page speed optimization plans.
| Features | Aggressive | Market Leader | Trailblazer |
| --- | --- | --- | --- |
| Total project hours to be spent improving site speed, communication, and reporting: | 25 hours | 50 hours | 100 hours |
| Page speed improvements are likely to increase your page speed tool scores, but Seventh "P" cannot guarantee the level of increase | | | |
| Needed for all projects: Website/Server Access | | | |
| Dedicated project POC | | | |
| Project web developers | | | |
| Audit of current server configuration | | | |
| If needed - Website/CSS optimization | | | |
| If needed - Setup and/or configuration of a CDN | | | |
| If needed - Reduction in http(s) requests | | | |
| If needed - Combine CSS and JavaScript files | | | |
| If needed - Https setup | | | |
| If needed - Hosting transfers | | | |
| If needed - Image size optimization and compression | | | |
| If needed - Gzip compression | | | |
| If needed - Caching setup and/or configuration | | | |
| If needed - Setup of browser caching | | | |
| If needed - Minify JavaScript | | | |
| If needed - Changing the order of JavaScript and CSS loading | | | |
| If needed - Optimize/reduce number of redirects | | | |
| 300+ SMEs behind campaign driving results | | | |
| One-time investment: | $3,125 | $6,000 | $11,500 |
| | BUY NOW | BUY NOW | BUY NOW |
Why are page speed optimization services important to website success?
Straightforward! It's difficult what your site guests need — it's what Google needs. There's an association between page speed and SEO, and it's by and large why your pages need to stack rapidly.
Google's principle work is to furnish clients with list items that best fit their questions. Not exclusively web search tools serve pages with content that best fits the client's inquiry, they additionally need to show sites that give an extraordinary client experience. Also, you got it — page speed is important for an incredible client experience.
Other client experience factors incorporate things like clarity and simplicity of route.
Pages that heap rapidly appeal to site guests decline bounce rate — another pointer to Google whether your site is a decent one.
At the point when your webpage stacks gradually, (takes longer than 3 seconds to completely stack), clients will become disappointed and skip from your site to discover one that gives the data they need all the more rapidly.
In the event that clients reliably skip from your site, Google will begin to notice, and you will see a drop in web search tool rankings. That is on the grounds that Google sees a relationship between high bounce rate and a terrible client experience, so they accordingly drop you in the rankings.
On the off chance that clients don't remain on your site sufficiently long to peruse your substance, Google reasons that it should not be an excellent site. Little do they (or your webpage guests) realize that you could have perhaps the best site with the best substance out there, however your lethargic burden time held them back from encountering your site.
This makes page speed significantly more critical. Page speed can hold clients back from entering your site in any case, which implies they will not find out about your business, see your items and services, or read your enlightening, useful data. In particular, they will not change over
Is mobile involved?
In January 2018, Google declared its Speed Update, which says that portable speed is currently a positioning components. Along these lines, both your work area and versatile rankings can change because of site speed.
This implies that when managing page speed optimization, it's significant to remember portable too.
Enhancing page speed for cell phones works the same way as it does on a work area. Also, obviously, you need to guarantee that your site is versatile responsive in any case! This implies that your site is viable and simple to use on more modest screens, as well!
4 factors that contribute to slow load time
There are a lot of factors that can contribute to slow load time including:
1. Sloppy HTML coding
One surefire approach to guarantee that your pages will stack gradually is by having a messy HTML code on the backend of your site.
HTML code is the thing that advises your page what to look like when clients see it on your site. The code is comprised of a wide range of labels that advise the page how to function and what to do.
Each page on your site will have a page of code, and the bigger and more unpredictable your site is, the more mind boggling your code will be. This is the place where it turns out to be simple for your code to become confused and messy.
To keep your pages stacking rapidly, it's fundamental to guarantee that there are no extra labels and that everything is referred to appropriately. Else, it will take the worker longer to peruse the code — causing a lethargic stacking site.
2. Huge, unoptimized graphics
Including graphics on your site is crucial to providing a great user experience. Nonetheless, all the fancy odds and ends that you can add to your site pages as far as illustrations and recordings can burden your site and cause it to stack gradually.
Huge, high-resolution photos are one of the biggest causes of slow-loading pages.
So how would you guarantee that your site furnishes an extraordinary client experience with designs while keeping page load time quick? Streamline your graphics!
Consider utilizing a device like Kraken.io to gather your image files so that they're not really massive. It will not change the visual size of the picture yet gather the document size so it doesn't take as long to stack on your site.
3. Too many redirects
Redirects happen when you need to supplant all connects to an old page with references to another one. The redirects are pieces of code set inside your .htaccess document in the worker, and you can make as numerous as you need when you supplant old pages on your site.
However, when you have huge loads of redirects in total agreement, your site sets aside the effort to reference the .htaccess record to discover the new area of where the connection is pointing. This is basically similar to stacking joins twice on your page, which slopes up page load time.
4. Server location and performance
One of the simpler components to comprehend — the farther away your worker, the more it will take your site to stack. All things considered, be aware of where your worker is found. For instance, if your business is situated in the United States, don't choose a worker in China.
Comparable to worker execution, you need to guarantee that you have a great site facilitating administration. Here's how it works:
A user types your URL into their search bar, or visits your website from a search engine like Google
Their browser notifies your server that they're trying to visit your site, and asks for all the information necessary to visit your page
If your server is high-quality, the information will arrive quickly
The quality of your server comes down to whether it's shared or dedicated:
Are you on a shared server? If so, you are sharing server space with another website and their traffic.
Are you on a dedicated server? If so, you can ensure that you're not sharing website traffic with another website. When you're on a dedicated server, you'll have a much faster loading time.
3 website optimization tools to help with page speed
Wondering how you can get started optimizing your page speed? Here are a couple of our favorite web optimization tools to help you check your webpage speed and sort out what you need to do to further develop it.
1. Google Search Console
With regards to free instruments to help you in your page speed optimization efforts, Google Search Console is most likely the most elite. It gives you all the important data you need to quantify your site traffic top to bottom, Similarly comprehend your webpage's presentation, and encourage you on the best way to fix the most unmistakable issues on your site.

2. Pingdom
Pingdom provides an abundance of data with regards to page enhancement. To start with, it gives reports that are separated into four areas. It gives you data like a presentation grade, the historical backdrop of the page, an examination, thus significantly more. They additionally give ideas to where you can make enhancements to your site.
In case you're keen on acquiring understanding into the speed of your sites from better places on the planet, Pingdom permits you to check your page speed from Dallas, Melbourne, San Jose, and Stockholm, Sweden. This is very useful on the off chance that you have customers all throughout the planet.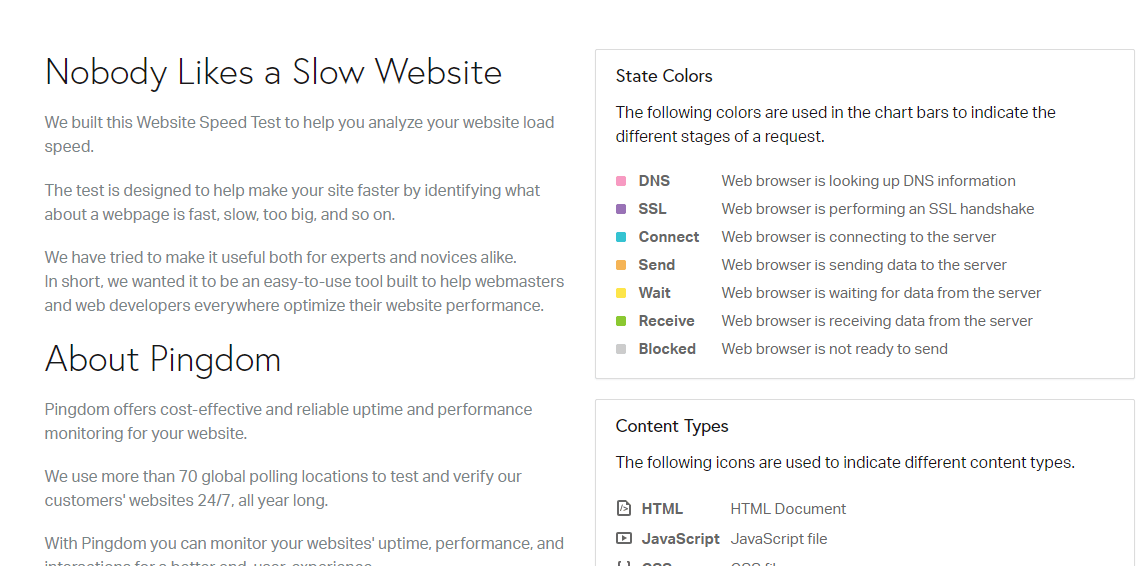 3. Seventh"P" SEO Checker
At Seventh"P", we have made our own exclusive SEO checker device that can assist with making proposals to the extent page improvements.
With our device, you'll have the option to enter the URL of your site, alongside the catchphrase you need to check for, and your email. At the point when you input your email, you'll get a full PDF duplicate of the outcomes.
Probably the best thing about the apparatus? You can add a contender's URL to contrast how it's acting interestingly with yours!
At the point when you accept your custom PDF report, you'll acquire knowledge into your page speed, yet an assortment of different measurements, including picture examination, title and depiction label review, duplicate and code investigation, thus substantially more.